Urgent messages:
*** THE MEETING FOR 5 JUNE 2020 has been cancelled due to COVID-19 stay home extension issues ***
** CALL TO ACTION! – all able bodied personnel. Your attendance is needed on 3 June for the Freedom Rally in Lansing, MI. The new SB-1 insurance bill will endanger all riders to an unacceptable extent. YOU are needed to participate to get the law altered to protect you while you ride. MCOC is meeting at 09:30 a.m. at the

I-96

Fowlerville Exit 129 in the parking lot east of Fowlerville Rd., near Fowlerville Farms and Great Lakes. Look for Russell C. (517) 375-1598 and his crew. Get your bike fueled up and tell our state congress what we need from them.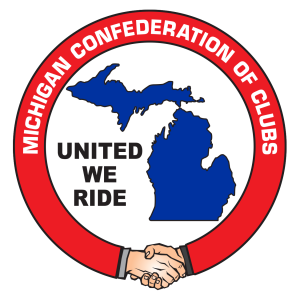 Michigan Confederation of Clubs (MCOC)
The MCOC was formed by motorcycle clubs to bring together a united legal stand to prevent discrimination against bikers. We believe that bikers have rights protected by the U.S. Constitution and the Constitution of the State of Michigan. Each member motorcycle club is dedicated to protecting and preserving the freedoms of their right to ride and stand united in that effort. We provide a voice and education on how to protect the rights and safety of bikers by utilizing the legislative and legal process.
We are also an active and proud member and ally of the National Coalition of Motorcyclists (NCOM), the Motorcycle Riders Foundation (MRF), and ABATE of Michigan. Together, our organizations form a quartet of motorcycle riding freedom fighters dedicated to eliminating discrimination against bikers. Michigan Confederation of Clubs — United We Ride!
JOINING THE MCOC
All motorcycle organizations and independent riders are encouraged to join. Motorcycle clubs (MC), riding clubs (RC), motorcycle associations (MA), motorcycle ministries (MM), motorcycle rights organizations (MRO), etc., and individuals (independent riders, non-riders, anyone who loves freedom, etc) are all welcome here. Our only restriction is that LEOs and LEO Clubs may not attend. For more information call call our officers – Russell at (517) 375-1598 OR Lil' John at (586) 322-3446
DISCLAIMER: The content and information displayed at our former web address at www.mcoc.us is not associated with the Michigan Confederation of Clubs (MCOC), and may not represent our opinions, philosophies, or views.