URGENT REQUEST:
H. Res 366 is a resolution focused on the profiling of bikers and it needs public support from all Members of Congress.  

Click on the link below and you will be sent to a site that sends a letter to your Representative based on your zip code.  

If your Representative has already signed on, your message will be a thank you note and ask them to push for a full vote on the House floor. If your elected official hasn't signed on, the message will ask for them to cosponsor H. Res 366 and go on record supporting bikers.  
So far this year over 70 Representatives have cosponsored the resolution, but that is just half of where we were in 2020. Let's make sure the politicians in Washington, D.C. hear from bikers and act. 
Click here AND contact your Representative regarding H. Res 366. 
DO THIS NOW.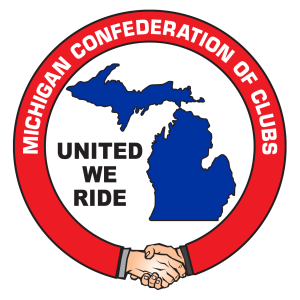 Michigan Confederation of Clubs (MCOC)
The MCOC was formed by motorcycle clubs to bring together a united legal stand to prevent discrimination against bikers.  We believe that bikers have rights protected by the U.S. Constitution and the Constitution of the State of Michigan.  Each member motorcycle club is dedicated to protecting and preserving the freedoms of their right to ride and stand united in that effort.  We provide a voice and education on how to protect the rights and safety of bikers by utilizing the legislative and legal process.
We are also an active and proud member and ally of the National Coalition of Motorcyclists (NCOM), the Motorcycle Riders Foundation (MRF) and ABATE of Michigan. Together, our organizations  form a triad of motorcycle riding freedom fighters dedicated to eliminating discrimination against bikers.  Michigan Confederation of Clubs — United We Ride!
JOINING THE MCOC
All motorcycle organizations and independent riders are encouraged to join. Motorcycle clubs (MC), riding clubs (RC), motorcycle associations (MA), motorcycle ministries (MM), motorcycle rights organizations (MRO), etc., and individuals (independent riders, non-riders, anyone who loves freedom, etc) are all welcome here.  Attend a meeting OR better yet give our VP Russell a call  517-375-1598 – russellmcoc@sbcglobal.net .  If you need more For more information, contact us.
DISCLAIMER:  The content and information displayed at our former web address at www.mcoc.us is NOT associated with the Michigan Confederation of Clubs (MCOC), and may not represent our opinions, philosophies, or views.
 [mjc]